AKILLES
---
Grand Royal's Frantic Voltaire
DOB: 2012-05-16 REG.NO: SE37016/2012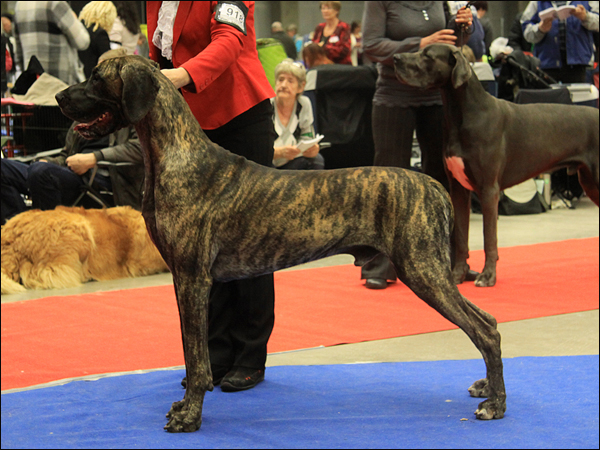 :: Height aprox 86 cm (34') :: correct & complete bite :: HD B/A

Akilles is available as stud for approved bitches. Akilles is from our home bred F-litter, son to our Astrid & Bozz. He is though living in a companion home on breeding terms, and is sparsely shown. Akilles is the father of our H-litter, born in April 2014. Thank you so much Julia (with family) for taking such good care of him!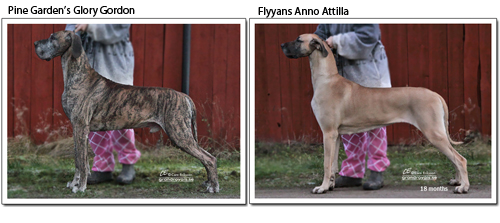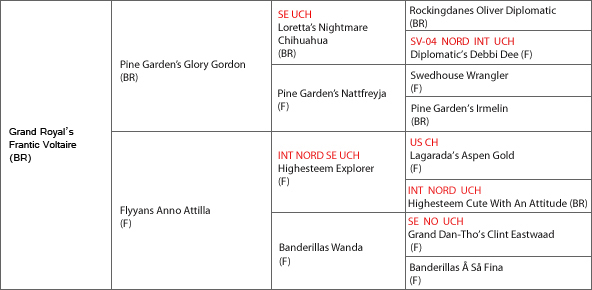 AKILLES SHOWS
(KK=Konkurrensklass/Competition Class, CK=CQ /CAC Quality/, HP=Honor Prize /for very promising puppie/, BT=Bästa Hane/Best Dog Competition Class)
---
Date: 2014.06.07
Type/Place: Int., Vänersborg, Sweden
Class: open class
Judge: Harry Vella, Malta
Result: excellent 3KK
Handler: co-owner, Julia Bråtenholme
Critique:
Correct proportions. Earset could be a bit better. Good front. Good reach of neck. Correct topline. Well angulated hindquarters. Moves well.
---
Date: 2014.05.01
Type/Place: Nat., Lidköping, Sweden
Class: intermediate class
Judge: Jan Herngren, Sweden
Result: excellent 1KK (intermedialte clas winner)

Critique:
Snart 2 år. Vackert huvud. Ädelt. Fina proportioner. Utmärkta ögon. Skulle vara lite mer utfylld under ögonen. Något rak överarmsvinkel. Bra överlinje, goda vinklar bak. Passande benstomme. Sjunker något i rörelse. Behöver ännu lite mer substans. Rör sig ok. Behöver lite mer ringträning. Almost 2 year. Beautiful noble head. Nice proportions. Should be a bit more filled under the eyes. Slightly straight over arm angulation. Nice topline, nice angulations behind. Suitable bones. Drops slightly in motion. Needs a bit more substance. Moves ok. Needs a little more training in the show ring.
---
Date: 2014.05.01
Type/Place: Unofficial/Open, Jönköping, Sweden
Class: adult males
Judge: Louise Dufva
Result: 1 HP, BOB, BOG4
Handler: co-owner, Julia Bråtenholme
Critique:
2årig hane, mycket ädel och elegant, härlig topline och hals. Utmärkt förbröst. Hade önskat något mer massa och något kortare rygg. Härligt bakställ. Vägvinnande rörelser från sidan. Rör sig korrekt fram och bak. 2 year old male, very noble and elegant, lovely topline and neck. Excellent fore chest. Could have wished for a bit more substance and a bit shorter back. Lovely hind quarters. Moves with excellent stride, correct movement bort in front and behind.
---