LUKAZ
---
Grand Royal's Golden Monte Cassino
DOB: 2013-04-06 REG.NO: SE29598/2013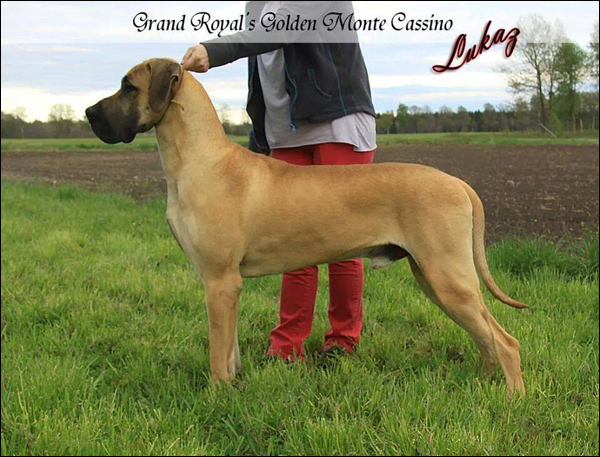 :: Height (at 1 years of age) 86-87 cm (34') :: correct & complete bite :: HD B/A

Lukaz is available as stud for approved bitches. Lukaz is from our home bred G-litter, son to our Astrid & Diego and lives in the northern part of Sweden, in Kalix. His sibblings are living in both Sweden, Finland and the USA. Lukaz is sold with preserved breeding rights. He's a bit more elegant and smaller than his brothers, so there are two very different types in the litter he's borned in.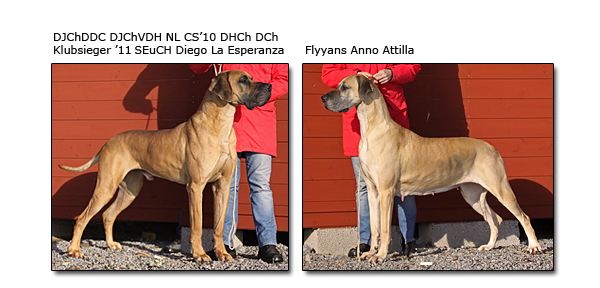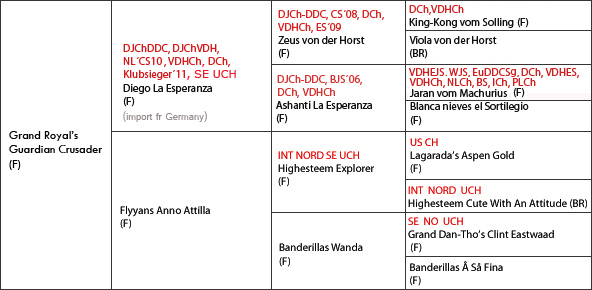 LUKAZ SHOWS
(KK=Konkurrensklass/Competition Class, CK=CQ /CAC Quality/, HP=Honor Prize /for very promising puppie/, BT=Bästa Hane/Best Dog Competition Class)
---
Date: 2014.09.06
Type/Place: Nat.Club show /Borghild Moens Memorial Show, Norway
Class: junior class
Judge: Patric Ragnarson, Sweden
Result: very good

Critique:
Kraftfull juniorhane av mycket god typ. Ger för dagen ett lågställt intryck. Maskulint välformat huvud av bra längd. Bra bett. Mörka vackra ögon. Fint djup i norpartiet. Fint milt uttryck. Bra hals och överlinje. Välformad bröstkorg. Lång i länden. Harmoniska vinklar fram och bak. Bra lårbredd. Något platta, veka tassar. Bra päls, färg och svans. Bra steglängd. Trevligt temperament. Välpresenterad. Powerful junior male of very good type. Gives a low set impression today. Masculine well shaped head av good length. Good bite. Dark beautiful eyes. Nice depth in muzzle. Nice mild expression. Good neck and topline. Well shaped rib cage. Long in loin. Harmonical angulations in front an back. Good width of thigh. Slightly flat, weak paws. good coat, color and tail. Good reach of stride. Nice temperament. Well presented. .
---
Date: 2014.07.26
Type/Place: Int./World Dog Show, Helsinki/Finland
Class: junior class
Judge: Andrew Brace, United Kingdom
Result: very good

Critique:
16 months fawn. Lacking a little height and elegans. Good head balance. Ear could be better. Better angulations in front than behind. Weak in hock and pastern. Topline could be better. Movement up and down could be better.
---
Date: 2014.07.05
Type/Place: Int./Piteå, Sweden
Class: junior class
Judge: Leni Finne
Result: very good

Critique:
Korrekta proportioner och benstomme. Något oparallella huvudlinjer, nosryggen kunde vara rakare, välburna öron, tillräcklig hals och förbröst, korrekt manke. Något eftergivande rygglinje, tillräcklig bröstkorg för åldern. Kunde visa sig i fastare form. Välvinklad bak, korrekt steglängd. Något överbyggd i rörelse, mycket lös i fronten. Correct prportions and bones. slightly unparallell lines, the muzzle could have been straighter, well set ears, enough neck and forechest, correkt wither. Slihghtly resilient topline, enought rib cage for age. Could had been showed in a former shape. Well angulated behind, correct lengt of steps. Slightlu over-built in movement, very loose front. .
---
Date: 2014.06.28
Type/Place: Int./Gällivare, Sweden
Class: junior class
Judge: Paul Stanton, Sweden
Result: very good

Critique:
Något långsträckt junior. Utmärkt längd på huvudet. Fin profil och mask. Vacker stark hals. Mycket god benstomme. Långa platta tassar. Måste utvecklas i rygglinjen och bli mycket fastare i frampartiet. Goda vinklar bak. Fortfarande lite lös bak. Bra päls och kondition. Utmärkt temperament. Behöver bli lite större och utvecklas mer. Något trång underkäke. A bit long junior. Excellent lenght of head. Nice profile and mask. Beautiful strong neck. Very good bones. Long flatt paws. Needs to develope is toppline and be a lot former in his front. Good angulationsback. Still a bit loos back. Good coat and condition. Excellent temeperament. Needs to be a bit bigger and develope more. Slightly narrow lower jaw. .
---
Date: 2013.11.02
Type/Place: Open/Unoff./Kalix, Sweden
Class: puppy class
Result: HP BOB-puppy BIS2 puppy

Critique:
Välbyggd handvalp. Bra skalle och nosparti. Vacker läpplinje. Mörka ögon. Lite löst läppficka. Ädel hals. Lite sänkt i rygglinjen. Bra bröstkorg. Behöver fylla ut lite i fronten. Bra benstomme. Lite spretiga tassar. Välvinklad bak. Rör sig bra från sidan, lite slängig fram. Trevligt temperament. Well built male puppy. Good skull and muzzle. beautiful lip line. Dark eyes. A bit loose lipanglation. Nobel neck. A bit lowered in his topline. Good forechest. Need's to fill out his front a bit. Good bones. A bit straggling paw's. Well angulated behind. Moves well from the side, a bit loose in front. Nice temperament. .
---
Date: 2013.09.26
Type/Place: Open/Unoff./Kalix, Sweden
Class: puppy 4-6 months
Judge: Per Lundström, Sweden
Result: HP BOB-puppy BIS1 puppy

Critique:
Utmärkt typ och helhet. Utmärkt huvud, uttryck med fin läppvinkel. Parallella plan och i övrigt ädla linjer i huvud, mycket vacker hals och överlinje. Starka fina käkar, utmärkt front och förbröst. Utmärkt kropp. Kraftfullt bett, kors. Mycket goda vinklar bak. Utmärkt benstomme. Rör sig mycket väl från alla håll när han vill. Särskilt lovande valp. Excellent type and over all. Excellent head. Expression with nice lip angulation. Parallell planes and besides that very noble lines in the head. Very beautiful neck and topline. Strong nice jaws, excellent front and forechest. Excellent body. Powerfull bite. Very well angulated behind. Excellent bones. Moves very well from all around when he want's to. Especially promising puppy.
---