ODESSA
---
Grand Royal's Irrestistible Lady Di
DOB: 2014-11-20 REG.NO: SE10839/2015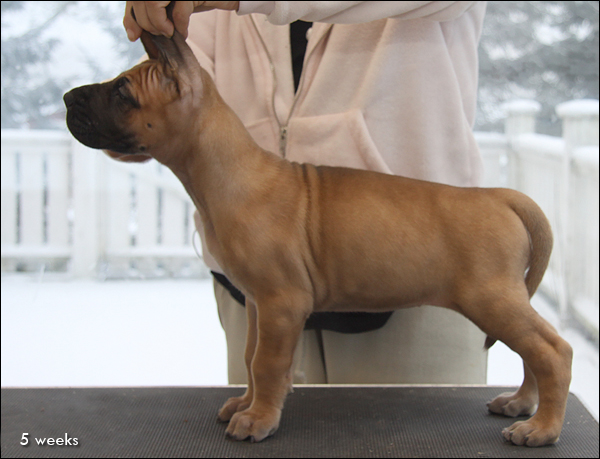 Height (at 8 months) 83 cm (32,7') :: correct & complete bite ::

Odessa is from our home bred I-litter, daughter to our Finnish imported girl Delta aka Euro Power Funky Lady & FIUCH HeJW-13 NORDJW-13 Edendane's King Of Hearts, called Puppe, who's living in Finland at kennel Edendane's. Thank you so much Teija Salmi-Aalto for letting me use this lovely boy for this litter. The inbreeding of the combination is 4,79% based on 5 generations. Picture is taken when she's only 5 weeks old. Odessa is named after, (to Finland and kennel Euro Power), Hungarian imported (brindle) C.I.B. RUCH LTW-06 LVW-08 Meherzugi Odessa, who's our Odessa's great grandmothers mother (on both sides). Already when Delta was a little baby I decided that she would one day have a daughter called Odessa ... and here she is.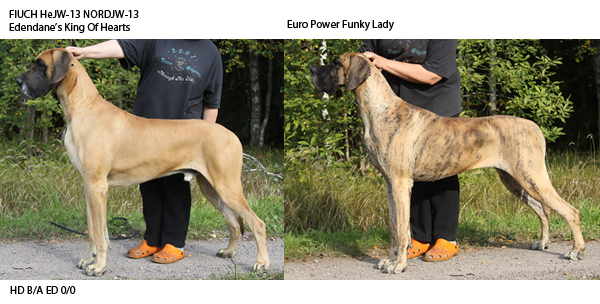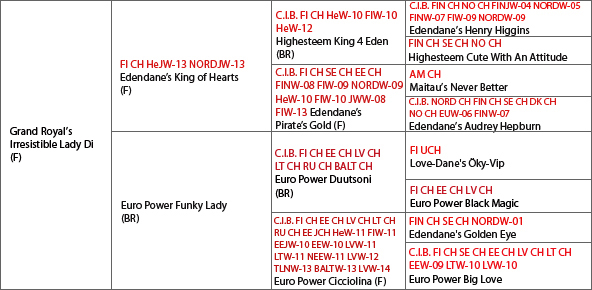 ODESSAs SHOWS
(KK=Konkurrensklass/Competition Class, CK=CQ /CAC Quality/, HP=Honor Prize /for very promising puppie/, BT=Bästa Tik/Best Bitch Competition Class)
---
Date: 2015.06.07
Type/Place: Nat. Ljungskile, Sweden
Class: junior class
Judge: Martin Johansson, Sweden
Result: 1KK CK 4BT R-CAC

---
Date: 2015.06.07
Type/Place: Nat. Vänersborg, Sweden
Class: puppy class (6-9 months)
Judge: Saija Juutilainen, Finland
Result: 4KK

Critique:
6 månaders välkroppad tik. Härligt förbröst. Fin över- och underlinje. Korrekta vinklar och benstomme. Fina starka tassar. Stiligt långt huvud. Kerrekt bett och läppar. Fina mörka ögon. Korrekt päls, fin färg. Välburen svans. Ännu valpiga rörelser men har passande steglängd från sidan när hon vill. Bra temperament. 6 months female with great body. Lovely forechest. Nice top- and underline. Correct angulations and bones. Nice strong feets. Handsome long head Correct bite and lips. Nice dark eyes. Correct fur, nice color. Well carried tail. Still puppy like movements but suitable stride from the side when she wants. Nice temperament.
---